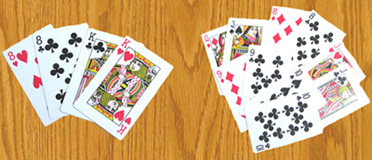 One of the joys of relief teaching at the moment is the privilege of visiting many different classrooms and seeing a variety of classroom management techniques. Today I saw a great idea for choosing students to participate in class discussions.
In this particular Year 4 classroom, a playing card was taped to the top of each students desk. When wanting to hear the thoughts of a think share pair discussion, the teacher would take a card from his own deck and whichever card was selected meant that the student with the corresponding card on their desk spoke.
Simple, random and genius. It avoids the students feeling they are being picked on and also gives everyone an equal  chance to participate.
Here's some more information and a short video from Teaching Channel explaining another teachers use of playing cards to facilitate class participation.